Claygate Community Swimming Pool
We are pleased to announce that the new indoor pool is now open!
Please do visit the Claygate Community Pool dedicated website for more information and regular updates.
The background
The CPSPA was founded in the 1970s to fundraise for an open air swimming pool at the school that so many children have enjoyed and benefited from.
The pool was hand dug by parents and has been maintained since by the PA. It has been a long term aspiration of the school, Claygate Parish Council and many in the local community that the pool can be opened to the local community but without a roof, changing rooms and showers such opportunities have been limited, even during summer months.
Our Vision
A high quality independent building.
A building which uses the existing space dedicated to the swimming pool with no encroachment on the school field and playground.
A design in keeping with the surrounding school buildings.
A roof structure with potential to harness solar energy.
A design that maximises natural daylight.
A sustainable and well insulated facility.
Dedicated fully accessible route to the building.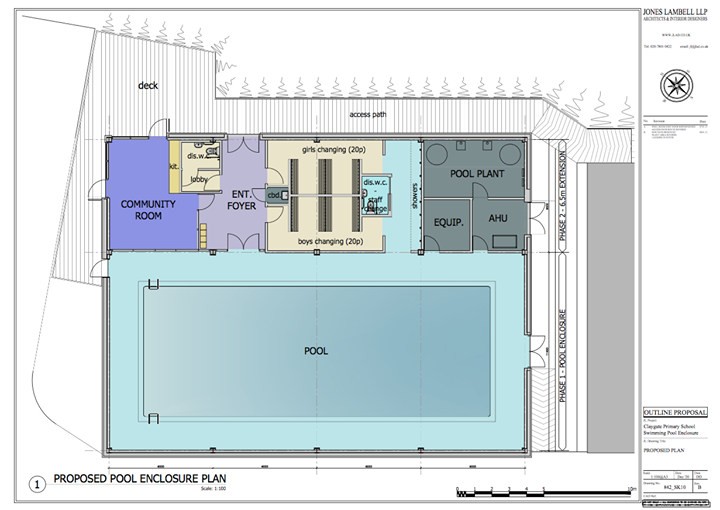 How will this enhance our community?
A long life, high quality and sustainable, purpose-built swimming pool building.
Year round swimming for all pupils, local residents and groups.
Modern changing facilities and showers
Additional community room, with kitchen, to be used in association with the swimming pool or independently.
Income stream to Claygate Primary School.
Get involved in CPSPA fundraising!
Fancy a challenge? Want to put your friends, kids or yourself to the test and be sponsored for it! We don't mind if you swim, knit or run!
Does your business or your employer match Fund?
Can you provide us with donations and discounts of building supplies?
All financial contributions are most welcome
Can you sponsor part of our project?
We have had fantastic support so far
Claygate Parish Council, Elmbridge Borough Council, Surrey County Council, Rowan School, Local Groups including Scouts, Brownies. Input and advice from numerous swim schools and experienced teachers, local residents and parents.
For further information, questions or to get involved with making this project a reality please contact the CPS Team – CPSCommunityPool@gmail.com