The Claygate Charter
At Claygate Primary, our children participate in weekly Enrichment sessions. Our rich offer includes:
Amazing Artists, Greenfingers, Outdoor Puzzlers, Japanese, M-Fit, Multisports, Music & Drama, Woodland Explorers and Outdoor Problem Solving (KS2 only).
During these sessions, our children are challenged through a wide variety of indoor and outdoor activities, all carefully designed to focus on promoting both mental and physical well-being. All activities, individually and collectively foster transferable skills and boost overall academic achievement, leading to better future work opportunities, enhanced well-being and self-esteem.
These opportunities are highly valued as they give children the time to explore and use their imagination, develop self-confidence and self-esteem, responsibility and resilience. Led by experienced members of staff, the carefully designed programme provides vibrant and exciting opportunities to learn new skills and practise them over time in a variety of different ways such as outdoor problem solving, gardening and Woodland Learning in our wonderful grounds.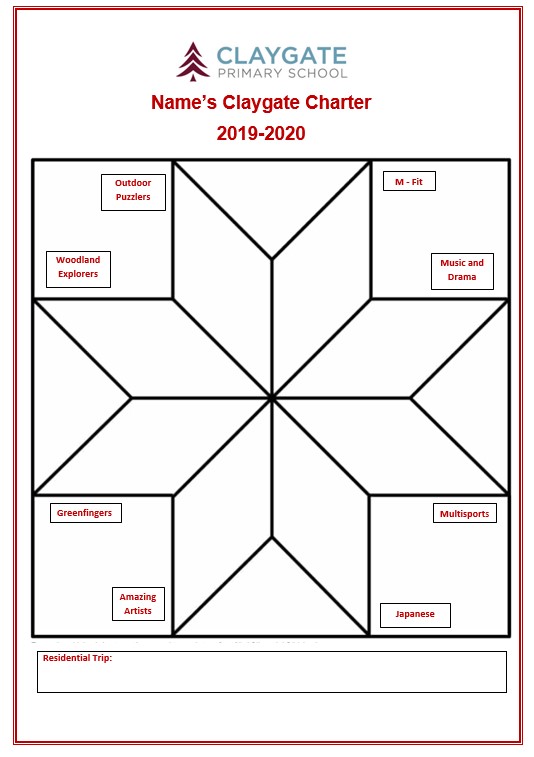 At the end of each block, the child completes one side of their charter and the Enrichment Leaders complete the other. At the end of the year, the completed Charter certificate is awarded.
These activities and skills are built upon in each Enrichment segment; equally experiences are built upon throughout each progressive level. In Year 4-6 a comment linked to the residential trip may also be included. By the end of Year 2, Year 4 and Year 6 it is hoped that, with encouragement, all children will have achieved bronze, silver and ultimately gold Charter status.
"The 'Claygate Charter' provides pupils with a variety of enrichment activities, such as gardening, sport, art and Japanese. These help promote pupils' physical and mental well-being. Many more pupils are representing the school in sporting fixtures." - OFSTED 2020